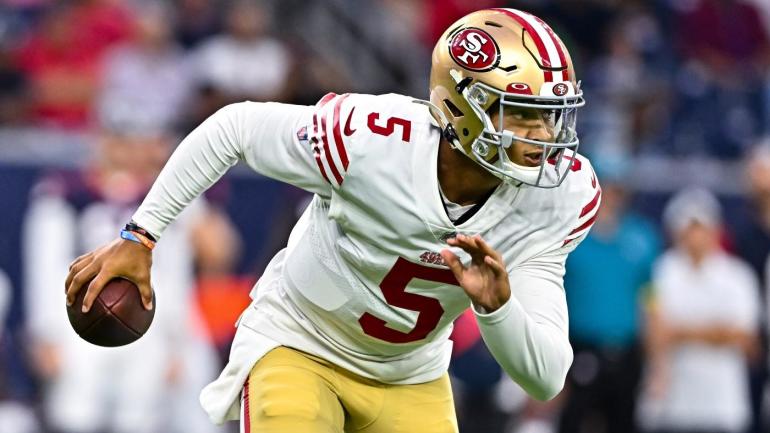 USATSI
San Francisco 49ers quarterback Trey Lance underwent surgery in September after suffering two injuries to his ankle in Week 2: A fibula fracture and ligament disruption. While the procedure was initially deemed a success, Lance reportedly required another surgery.
Per NFL Media, Lance underwent a second surgery on his injured ankle this past week to remove hardware, and is back on crutches. Lance is still not expected to miss any time in 2023. 
"San Francisco 49ers quarterback Trey Lance underwent successful surgery on his right ankle yesterday," the 49ers said in a statement to NFL.com. "The second procedure was performed to remove hardware that was inserted during the initial surgery in September.
"Due to the location of the fracture, the required hardware placement was close to a tendon in Lance's ankle. During the rehab process, their close proximity proved to cause irritation in his ankle. After consulting with multiple experts, the decision was made to have the hardware removed to prevent future issues in the ankle.
"Lance will continue his rehab process and is expected to make a full recovery and return for OTAs."
The 49ers made the decision to choose Lance over Jimmy Garoppolo entering 2022. In his two games this season, Lance completed 15 of 31 passes for 194 yards and one interception. After Lance went down, in stepped Jimmy G, who went 7-3 as the starter before suffering a season-ending foot injury in early December. While the season almost appeared to be lost at that point, rookie quarterback Brock Purdy has won his first three career starts, and has the 49ers looking like one of the best teams in the NFL. San Francisco is currently on an eight-game winning streak. 
With a healthy Lance, a surging Purdy and then the free-agent Garoppolo, the 49ers will have an interesting decision to make this offseason concerning their future.