OTTAWA – Many basketball coaches will tell you they have a number of pregame facets they want to be a focal point before each game.
For Ottawa coach Mark Cooper, Tuesday night's Interstate 8 Conference game with Sandwich had one that topped all others.
"Our biggest point of emphasis coming into tonight game was we needed to play harder than we have been," Cooper said. "Success can't happen if you don't play hard, and tonight I thought we competed and played with more toughness than we have in a long time. We played with good energy."
The Pirates overcame 18 turnovers and an 11-of-23 night from the foul line by shooting 49% from the field while holding the Indians to 34% (28% in the second half) and holding a 31-24 edge in rebounding in a 48-38 victory at Kingman Gymnasium.
"Some things like taking care of the ball and free throws are some things we need to keep making strides on, but I thought we took a positive step in those things we made our emphasis before the game."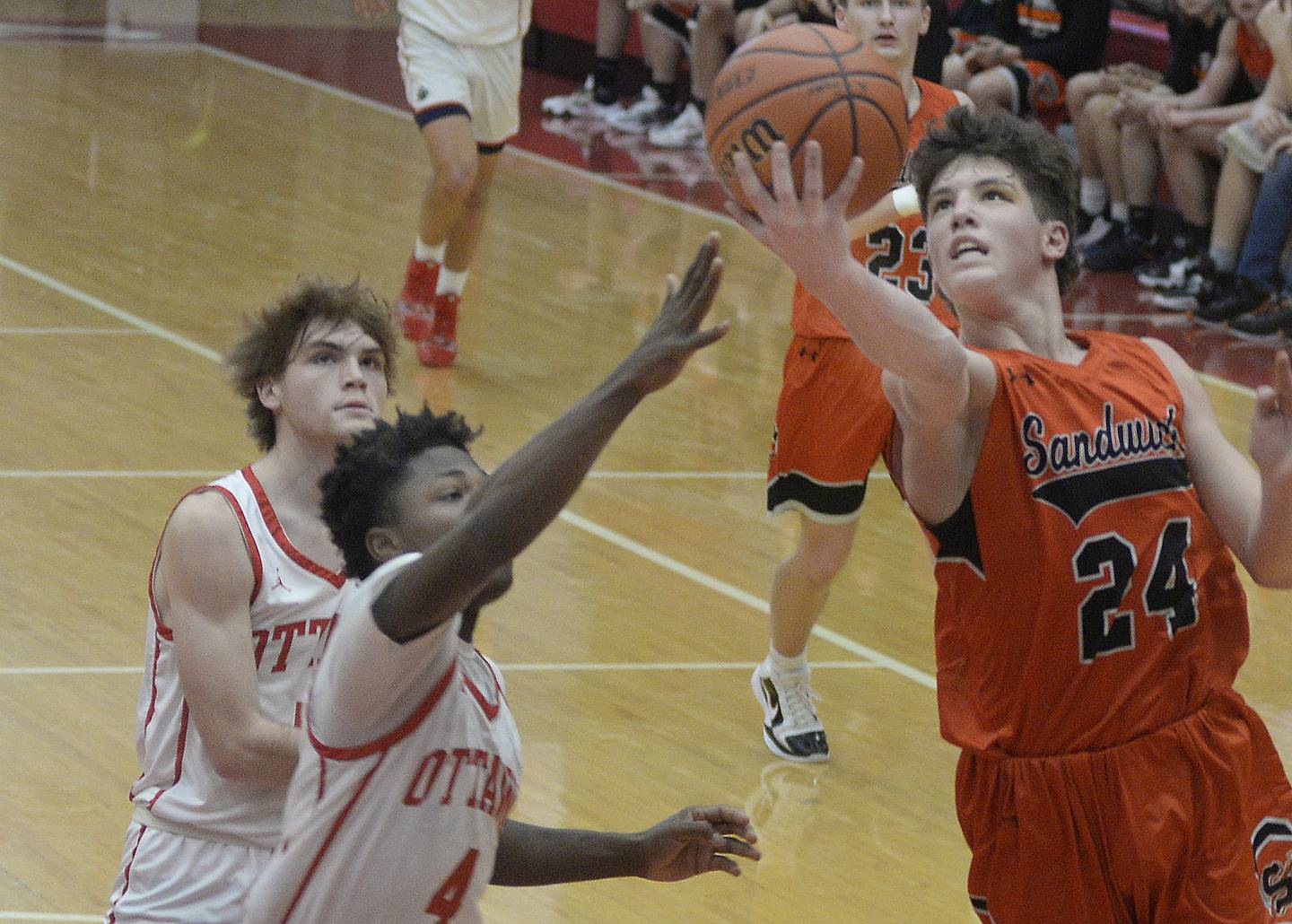 Ottawa, which improved to 7-7 overall and 4-1 in league play, was led by 13 points apiece by Conner Price and Levi Sheehan (seven rebounds, three assists). For Price it was a career high. Cooper Knoll added eight points, Huston Hart seven points and Payton Knoll a team-high nine rebounds and five assists.
Sandwich (11-6, 4-2) was paced by 12 points, three rebounds and three steals from Austin Marks. Owen Sheley (three rebounds, three blocks) and Dom Rome each posted six points each.
"Ottawa played a solid game tonight, while we struggled," Sandwich coach Kevin Kozan said. "We talked in the locker room after the game and collectively we know that wasn't us or how we can play. When we get down, we guard, and we just didn't do a good enough job of that. We also missed about 15 layups or shots right at the rim which really hurt us.
"I felt like much of the game on the offensive end we were able to get downhill and to the hoop, but we just couldn't find a way to finish when we got there.
"We did a lot of good things tonight, but we struggled with some of little things that help you win basketball games."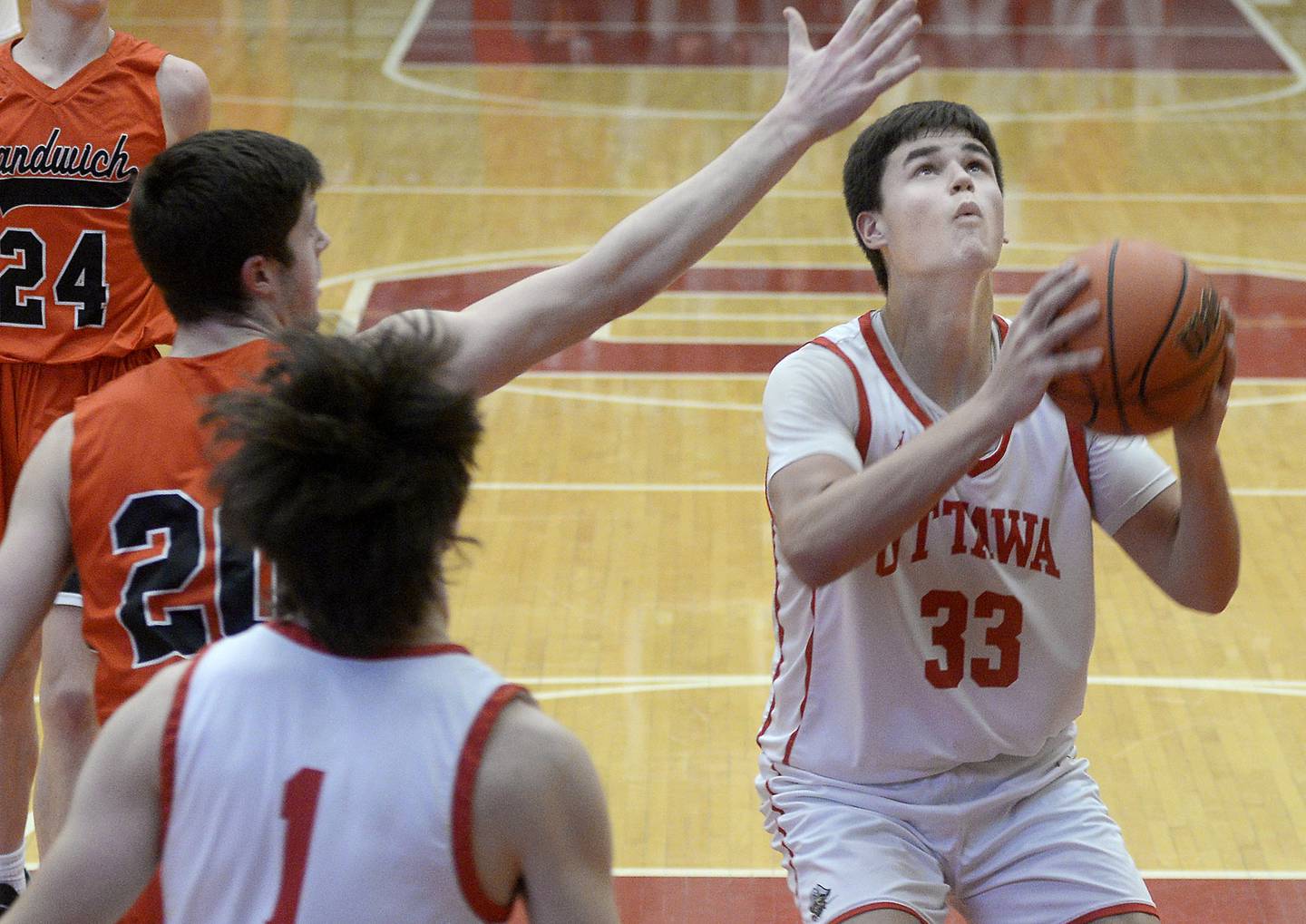 Ottawa led 15-11 after the opening eight minutes with Sheehan scoring five points, including an off-balance 3-pointer from the left wing just before the horn. In the second, seven points by Price and Hart's second triple helped the Pirates hold a 30-21 lead at the intermission.
The hosts then opened the second half on a 10-3 run, with Cooper Knoll swishing a triple from the top of the key, Price hitting a floater in the lane and consecutive drives by Sheehan to make it 40-24 with a minute to play in the third.
Sandwich used a six-point burst, a rebound hoop by Rome, a drive by Evan Gottlieb and a 10-foot jumper by Marks to close to within 10 early in the fourth but couldn't close the gap any further in the final five minutes.
"I felt we would have to match Sandwich's force in the paint," Cooper said. "They are an aggressive rebounding team, and we haven't been good in that area this season. I also thought we did a good job of not allowing their style of play put us on our heels. They physically take you out of what you want to do and mentally break you down, but I thought we did a good job of withstanding both of those things."
Up next for Ottawa is a trip west to take on rival La Salle-Peru at 7 p.m. Friday. Sandwich will return to the floor at 7 p.m. Thursday when it travels to take on Genoa-Kingston.