By JULIE CARLE
BG Independent News
Stacie Wenig Anderson believes success is overrated. Instead, her yardstick is significance.
As a parent, employee, volunteer and agricultural advocate, she proved her significance earlier this month when she won the 2023 American Farm Bureau Excellence in Agriculture Award.
After winning the Ohio Farm Bureau Excellence in Agriculture Award in 2022, Anderson competed in the national contest against other state excellence winners from across the country.
The Excellence in Agriculture Award spotlights young Farm Bureau members who are agricultural enthusiasts but have not earned a majority of their income from an owned production agriculture enterprise in the past three years. Competitors are evaluated on their understanding of agricultural issues, leadership experiences and achievement, and their ability to communicate their agricultural story.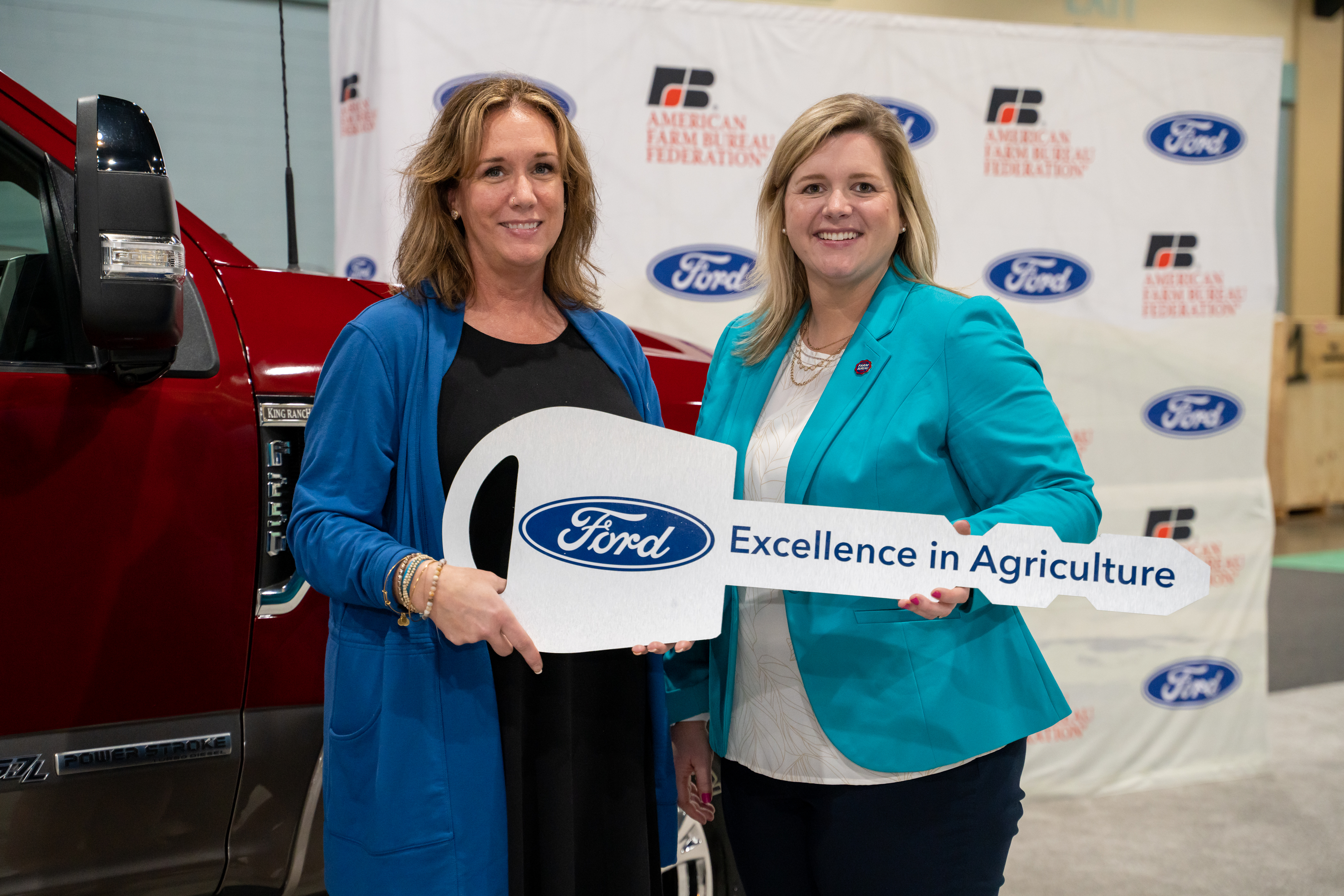 She knew she was competing against others in agriculture who were more active in the state and national organization, so she "doubled-down" by focusing on the effort she puts in serving her hometown.
"I don't do as many things at the state or national level because of the season of life I'm in," she said. With three children under the age of seven, a full-time job as agronomy sales manager at Legacy Farmers Cooperative, an active partnership in the family farm operation, and numerous local volunteer leadership roles, Anderson convincingly demonstrated an impact on agriculture, which is the main criterion for winning the national award.
During the presentation component of the competition, she talked about the difference between success and significance. "In our culture, we focus so much on being successful. What are your kids doing? What successes have you had? As a parent, employee and volunteer, I've really shifted my mindset. Is it success that's most important, or is the significance of what you're doing most important? So now I judge how I spend my time by deciding what's really important," she said.
Anderson also works hard to live up to her motto: "If you want cool things to happen in your hometown, it's up to you to go out and make cool things happen." And she has done just that.
As co-chair of the Wood County Junior Fair Livestock Showcase and Sale, she and a group of like-minded junior fair advocates, whittled down the county fair's livestock sale from a two-day, 18-hour sale to a two-and-a-half-hour sale and an online component.
The pivot came in 2021, the year after the pandemic changed the landscape of the fair and the livestock sale. "We had the opportunity to reinvent the livestock sale experience for the junior fair exhibitor and the buyer. We thought outside the box and executed the county's most successful sale," Anderson said.
In 2022, the new format continued, and the sale raised more than $320,000 that was directly invested back into the youth—the exact impact she and the sale team envisioned. The change also helped shape the awareness and commitment of community businesses not typically associated with agriculture and connected them to the fair and the junior fair youth.
Because Anderson grew up "with one foot in town and one foot in the country," she brought a unique perspective to the livestock sale project. She was involved in athletics and the arts when she was at Bowling Green High School, but she was also president of the Bowling Green FFA chapter. Her goal was to bring the same kind of booster support that athletics and the arts have to the youth in agriculture.
"For the kids in agriculture, that show ring is their stage, their field, and our county fair is their big event of the year. The skills they are learning (in FFA and 4-H) and putting on display for our community to see is definitely a passion project of mine," she said. "When kids are able to invest in themselves, advance their learning, invest in their college or their future because of what 4-H or FFA has taught them, that's significant enough for me."
Her commitment to the agricultural youth of the area is also fostered through her interactions with local FFA chapters and 4-H clubs. Anderson, a past state FFA officer, volunteers for coaching and judging career development events for local FFA chapters. She and her husband Brian, who raise corn, soybeans and wheat and have grown their livestock operation into a niche market meat business, have also launched a fundraising initiative for local 4-H clubs.
Their livestock operation started as a hobby in 2014 and has grown substantially, deepening her as well as their children, Audrey, Morris and Mawer's involvement on the farm. They rotate five batches of 1,100 broiler chickens in a self-made, custom-built brooder and cage-free environment. They also have a small cow-calf herd that produces custom beef cuts, raise locally bred hogs to finish for fresh local pork, and are the only area supplier of fresh, local Thanksgiving turkeys. 
Brown eggs, from their pasture-raised hens, are the hottest commodity they sell from their farm. In 2022, they sold more than 10,000 dozen eggs.
Anderson also serves as president of the Wood County Farm Bureau and chaired countywide agricultural tourism events in 2021 and 2022 through the Wood County Soil and Water Conservation District. The significant events highlighted a wide variety of agricultural businesses and helped connect consumers directly to producers.
For all her agricultural leadership and advocacy, as well as her commitment to issues in agriculture, Anderson accepted the award during the American Farm Bureau's 104 th Convention, which was held in San Juan, Puerto Rico. The prize included a $35,000 credit toward a new Ford vehicle and paid registration to the AFBF FUSION Conference in Jacksonville, Florida, courtesy of Ford.
She said the award is a testament to females and moms with an agriculture profession can accomplish so much, be a great mom and grow their career.
"The idea of working in big towns at big jobs is really cool, but it's even cooler being welcomed back to your hometown with open arms and still being able to accomplish everything you wanted to in life," she said. Legacy Farmers has allowed her to achieve that in her hometown.
Because she has benefited from the generosity and support of many outstanding people in the community, Anderson believes "it is important to invest that back for the betterment of my kids and our industry, and Farm Bureau has been a tremendous vehicle to make that happen."