Fuelarts x Tezos Accelerator – the acceleration program for Art+Tech startups announced in mid-November, and aroused significant interest of international audiences, continues to accept applications for participation until December 30, 2022. This 11-week online batch will span from February to April 2023 and will cover four core segments: art, technology, marketing and finance. It is a unique opportunity for 10 selected Art+Tech startups to uncover their market fit, refine business models and GtM strategies, integrate blockchain tools powered by the energy-efficient Tezos blockchain, and find new investment opportunities with the guidance of the strongest international experts & practitioners.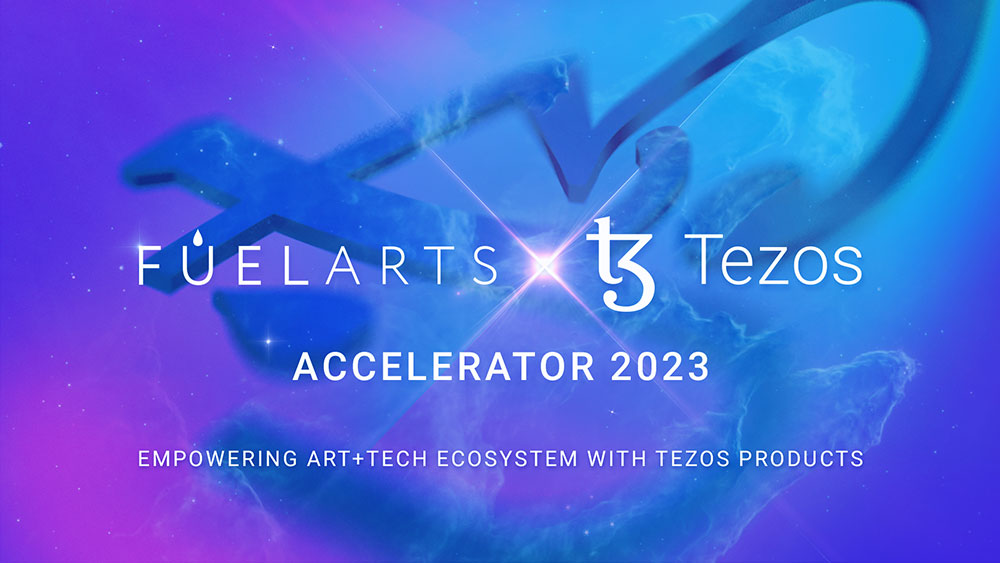 The new accelerator program accepts early-stage incorporated startups (Angel to Seed) with fundraising experience. This program is equity-free and will be highly impactful for startups in a Prototype+ development stage.
During the first week the Accelerator organizers received dozens of applications from all over the world – UK, Portugal, Switzerland, Germany, Japan, UAE, France, Azerbaijan, United States, Venezuela, Italy, Australia, Malaysia and Saudi Arabia. These startups represent the following segments: R&D, GameFi, Trade, Management, Analytics.
WHY TEZOS BLOCKCHAIN ECOSYSTEM IS THE BEST CHOICE FOR ART+TECH STARTUPS?
"The Tezos blockchain is designed to evolve and empower. Its unique governance model ensures an enduring, adaptable foundation for digital assets. The Tezos ecosystem gives significant consideration to and anticipates evolving technology stacks, business models, and creative infrastructures. Its community is fiercely loyal to the principles of the Tezos blockchain and has developed a creative economy that drives innovation and creative success at every stage. Businesses and infrastructure models that have chosen Tezos include major arts institutions, as well as emerging tooling assets that proactively seek to enrich and benefit the arts and culture industry internationally. From fine art to luxury brands, music to publishing – the existing projects built on Tezos provide a foundational platform for and significant opportunities to those with new ideas, looking to expand, network, learn and succeed in web3," said Valérie C. Whitacre, Head of Art at Trilitech.
The united team of Fuelarts & Tezos mentors includes Art+Tech professionals, Tezos blockchain experts and engineers, and venture investors. Among them:
Roxanna Zarnegar – Co-Founder of Fuelarts / Ex-Vice President of Artnet / Ex-COO at Christie's Americas Katya Kohen – Mentor at Techstars / Mentor at 500 Startups Global / Angel & VC
Natasha Le Tanneur – Founder of ArtPaie, Former Sales Lead at Artnet / COO at Collectrium
Danny Setiawan – Yahoo corporate accelerator / Yahoo Finance co-creator
Diego Berrio – CFO at 13 Ventures / CFO at Fuelarts Capital I / Angel & VC
Konstantin Kogan – Co-Founder of Bullperks / Co-Founder of GamesPad / Angel & VC
Christina Steinbrecher-Pfandt – Serial entrepreneur, CEO of Blockchain.art (BCA)
Anna Shvets – CEO TAtchers' Art Management, Art strategist, Producer and International Art PR expert
Jeff Eshleman – CEO of Amadeo Global / Angel & VC
Vandana Taxali – IP & Blockchain Lawyer / Founder of Artcryption
Petr Voynitskiy & RadioButton Team – BusDev Director with 15 years of experience / CEO RadioButton Tech Production, CEO Sansera
Benjamin Fuentes – Blockchain Tech Development / Tezos ecosystem expert
Florian Pautot – Technical Product Manager for Rarible / an experienced Tezos Blockchain Engineer Ajit Grandhi – Product Business Manager and Developer / Tezos ecosystem expert
Daniel Hines – Functional Programming / Fullstack Development specialist
Anshu Jalan – Software Engineer / Functional Programming / Tezos ecosystem expert
On the eve of the acceleration program, a special series of webinars is planned with Tezos representatives and initiatives that have successfully adapted the Tezos ecosystem to conduct their activities in the Art+Tech segment. The program will present all aspects of using Tezos in practice, and invited speakers will answer all questions from the audience.
Applications are received at https://fuelarts.com/tezos2023
Admissions deadline: December 30, 2022
Start: February, 3rd 2023
Acceleration: February – April 2023
Demo day: April, 20th 2023
Language: English
Modular format: online (Zoom meetings)
About Fuelarts
FUELARTS is an investment platform, specializing in the Art+Tech industry. Its mission is to support the development of an emerging Web3 ecosystem, backing daring entrepreneurs, while they are building a more efficient, transparent, and accessible art market. In 2019 Fuelarts was founded by serial entrepreneur Denis Belkevich and former COO of Christie's Americas, ex-Senior VP of Artnet Roxanna Zarnegar. From 2022 Fuelarts combines an Art+Tech & NFT accelerator, a specialized VC fund, and a research department publishing Art+Tech industry reports.
For more information, please visit https://fuelarts.com
About Tezos
Tezos is smart money, redefining what it means to hold and exchange value in a digitally connected world. A self-upgradable and energy-efficient Proof of Stake blockchain with a proven track record, Tezos seamlessly adopts tomorrow's innovations without network disruptions today. Tezos, an energy-efficient blockchain, has gained worldwide acclaim as the platform of choice for digital artists and institutions looking to mint NFTs sustainably and responsibly. Tezos is home to a diverse and global network of artists, collectors, and builders exploring new mediums for creative expression.
For more information, please visit https://tezos.com