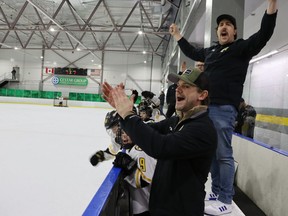 Article content
John Mellor is a hockey scout with a particular specialty.
Article content
The retired Sarnia man spent months keeping his eyes open for a valuable resource – volunteers for the North American Silver Stick U11 and U18 finals held at arenas across Sarnia and Point Edward on the weekend.
Without them, he said, "it would never happen."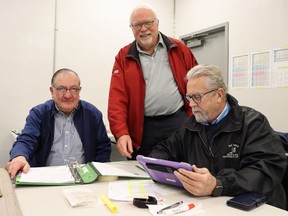 The 52nd version of the annual tournament featuring more than 60 teams from Ontario, the U.S. and Quebec needed about 100 volunteers working as scorekeepers, timekeepers, arena marshals and other jobs to help the event run smoothly.
"We've got some just unbelievable volunteers," Mellor said.
Some return each year. Some answer organizers' call for help from local teams playing in the tournament. And some find him.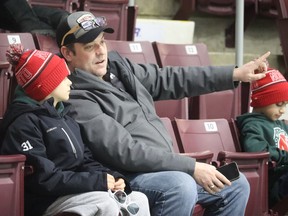 Mellor, who took on the job of organizing volunteers for this year's Silver Stick, was getting his summer tires installed earlier this year when the mechanic who knew he was involved in the tournament offered to volunteer.
Article content
"It never ceases to amaze me, the generosity of people," he said.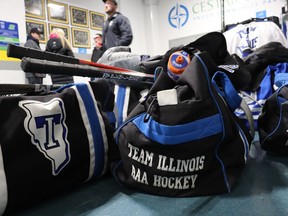 That include a guy who called up, offered to help and mentioned his father would also love to volunteer.
"He came up from Chatham to be here for a 7 a.m. game yesterday morning," Mellor said Saturday.
He pointed to a paper copy of his score and timekeeper schedule and the several three-game slots the Chatham man filled the first day of the tournament, along with additional slots Saturday.
"And he said, 'I'll be here Sunday if you need more help,'" Mellor said.
"This is his first year volunteering, – out of the generosity of his heart."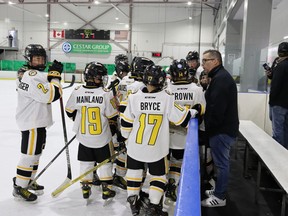 Mellor spoke about volunteers who arrange days off work to cover slots during the tournament. Some start young as high school kids looking to book volunteer hours.
Article content
Along with time and score keepers, the tournament needs volunteers to serve as marshals signing-in teams and other duties at the four arenas where the games are played.
"They're there the whole day," Mellor said about marshals. "They get there at 6 o'clock in the morning and leave at whatever time at night. It might be 9 o'clock, 10 o'clock at night . . . it is a long day."
Arena marshal is one of the jobs Mellor held since he started out as a Silver Stick volunteer in 1993. He also spent several years as tournament director and this year his son, Kyle Mellor, has the job.
Mellor said his record with the tournament is "a long way from unique."
"There are people out there that have 30 and 35, 40 and fifty years of volunteering for Silver Stick," he said.
Article content
Other volunteers needed for Silver Stick recruit sponsors, organize opening ceremonies, look after the tournament awards and take on other jobs.
"They're just wonderful people, genuine people. They obviously care about their community and they care about our cause – minor hockey."
Silver Stick raises money for minor hockey and Tourism Sarnia-Lambton says the annual tournaments, help over several weekends and in locations around Lambton, inject millions of dollars into the local economy.
Teams arrived at the finals after winning qualifying Silver Stick tournaments held in communities in Canada and the U.S.
It's a tournament "of the best of the best," Mellor said.
Filling all of the volunteer slots was a challenge this year because Silver Stick went on hiatus for two years during pandemic restrictions and some regular volunteers weren't available when it returned.
"People kind of got out of the habit and we lost a number of volunteers," Mellor said.
But, new volunteers came onboard.
"They're a tremendously generous bunch of people." Mellor said.