"It spoke to my heart, honestly. We were always raised, myself personally, to make sure that we take care of our fellow brothers and sisters, family or not, we help those who may not have what we have and I am blessed to have more than I need."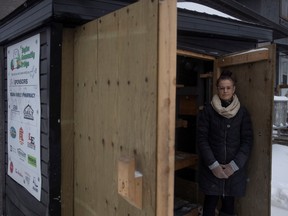 Article content
In just two years, the number of community fridges in Regina grew from zero to four.
Article content
More and more people reportedly sought support from the Regina Food Bank as well as meal programs run by local non-profits like Carmichael Outreach. The community fridges, which rely on donations, struggle daily to keep up with demand.
"Seeing first hand, with my own eyes, the need that exists and how great it is and to what point many don't quite understand the gravity of the situation, I myself feel blessed to be part of the change," Josée O'Blenis, one of five committee members that help keep a North Central community fridge running, said in an interview.
Article content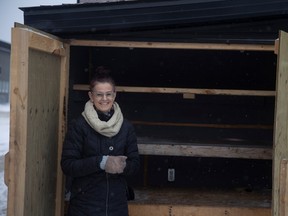 And while one could argue it's a gap that should be filled by government or other means, it doesn't change the fact the gap exists, and so communities across the city have taken it upon themselves to do what they can.
The community fridge in North Central was the first in the city, explained O'Blenis. Spearheaded by another community member, O'Blenis got involved pretty much right from the start after coming across early stage updates on social media.
"It spoke to my heart, honestly. We were always raised, myself personally, to make sure that we take care of our fellow brothers and sisters. Family or not, we help those who may not have what we have, and I am blessed to have more than I need," O'Blenis said.
"Time I find is one thing that challenges a lot of people," she added. "We all work full time, we all have families, commitments and things that take up our schedule, but we make sure that we find the time, whether it's ourself or encouraging people to come volunteer with us… It kinda takes a village."
Article content
But as much as it takes a community of those more fortunate to make the fridges possible, it's not about the volunteers. It's about the people who need help, O'Blenis urged.
"They say if you're doing it to help others, don't do it for the gratification of having done the thing. You don't have to yell on social media, 'I donated to the community fridge today, I donated to the food bank, yay me, I'm going to give myself a pat on the shoulder'," O'Blenis said. "Do it because you know that everyone deserves to have a place where they feel safe, where they feel secure, where they feel seen, heard and valued."
The University of Regina houses another community fridge for students, and the Cathedral and Heritage communities are home to two others. All operate independently, but have the same goal — to fill the fridges as much as possible to try and "keep bellies full." Some, like the Cathedral fridge, also host meetings in the community and uses its social media presence to educate and advocate.
Article content
Located at the corner of 13th Avenue and Cameron Street, the Cathedral fridge is covered with colourful murals, a mandala of fruits and vegetables on one side, butterflies, flowers, a smiling banana and the words "food for all" on the other. The phrase "By the community, for the community," leads the "about us" section of its website, which houses a short Q-and-A about community fridges.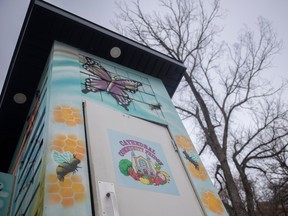 "Won't people abuse the fridge and take more than they need?" one of the questions poses.
While it's part of the Q-and-A, the question is far from theoretical. It addresses comments O'Blenis says are commonly heard by organizers at all three locations, comments which abounded on social media in late November from Cathedral community members who voiced hesitation to donate to the fridge.
Article content
Some reported seeing the same people taking from the fridge multiple times a day, or folks taking what appeared to be more than their fair share. Several others said it's these reasons why they've stopped dropping food off at the fridge and instead offer to drop off directly to those expressing interest on social media or donating in other ways. Others yet questioned a persons need if they got to the fridge by car.
"Many of us have been functioning in survival mode due to food scarcity. It is natural to hoard resources out of fear of them running out or fear of never having them again," the website explains.
"It is not up to anyone else but the individual to decide how much of a resource is appropriate for an individual to have. Nobody knows better about what you need better than you, and we have to respect the same for our neighbor (sic)."
Article content
O'Blenis has heard these same comments first hand, but said there's often more to a situation than meets the eye.
"I met this lovely lady who happens to be a pastor in a local church and she would often come with her vehicle, but she was picking up for multiple families that had no way of getting to the fridge in the middle of winter," she said.
And anyone else coming in a vehicle? Maybe they live in it. Maybe they just lost their job. Maybe they just lost everything. You just never know.
"My advice would be, go with what your heart tells you, but do your best to do so from a place free of judgment and free of expectations, a place where you're ok with not necessarily having control over who that can of soup or the bag of groceries that you dropped off will go to, but know that the person who does come to get it, they don't know when their next meal is coming," O'Blenis said. "So, ya, they may take three cans of soup instead of just the one. But who are we to judge?"
Article content
The third community fridge is located at 1510 12th Ave. near Carmicheal Outreach. In September 2021, it was painted by local Indigenous artist Brandy Jones. Like the others, the organizers have a Facebook page, Heritage Community Fridge – 12th Ave, where they post sign up sheets weekly for volunteers who want to help clean the fridge.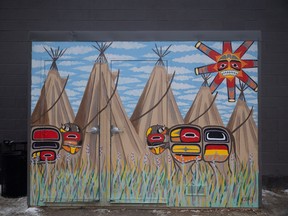 The support for this particular community fridge and those who rely on it was evident when on Nov. 6 of this year they suddenly saw themselves without a functioning fridge and put out a call for anyone who might be able to donate one. Just two days later, they announced on social media that a new (used) fridge was on its way, thanking everyone who reached out to help get the fridge back up and running again as quickly as possible.
Article content
"There definitely is a gap and that's our purpose, is to be there and do our best to fill that gap," O'Blenis said when asked about the burden on communities to help those who have slipped through the cracks of government support.
"There is also a level of awareness that needs to be brought to the table and although it may have been brought to the table several times, its kind of like learning a new skill — sometimes we just need to repeat it and repeat it and repeat it," she added. "It may take time for it to sink in. There are so many organizations that offer services that are much needed. Unfortunately, what's happening is that as much as we have the intention to help, I think we're seeing just the tip of the iceberg. So, theres a lot underneath the surface that needs to be addressed, that needs to be looked at, that needs to be considered."
Until that happens, community continues to step up, with people like O'Blenis and countless other volunteers and donors doing their best to help those in need.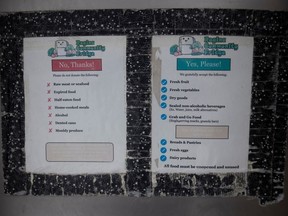 The news seems to be flying at us faster all the time. From COVID-19 updates to politics and crime and everything in between, it can be hard to keep up. With that in mind, the Regina Leader-Post has created an Afternoon Headlines newsletter that can be delivered daily to your inbox to help make sure you are up to date with the most vital news of the day. Click here to subscribe.