Everything you've heard about ChatGPT so far – the astonishing ability to write essays from scratch in a jiffy, the ability to converse in a very human-like manner, and a lot more – is all indeed true. While there are times the AI chatbot can get its facts mixed up, more often than not, the responses it generates are quite serviceable. Its brilliance has already earned the chatbot multiple use cases, and if you aren't already aboard the ChatGPT bandwagon, it's time to hop on. Wondering what those use cases are? Honestly, it's an endless list, but we've prepped a shorter one below that covers the fundamentals to get you started.
Write essays on any topic
If you are experiencing writer's block, ChatGPT has got you covered with one of its most popular uses – writing essays. We strongly advise against jotting down ChatGPT's output as is into your notebook, though, as the bot can get facts wrong sometimes (and because it's simply not the right thing to do). A better, more morally acceptable use case would be learning how to write an essay using ChatGPT. Get the bot to write you an essay, absorb the writing style, and then prep one of your own.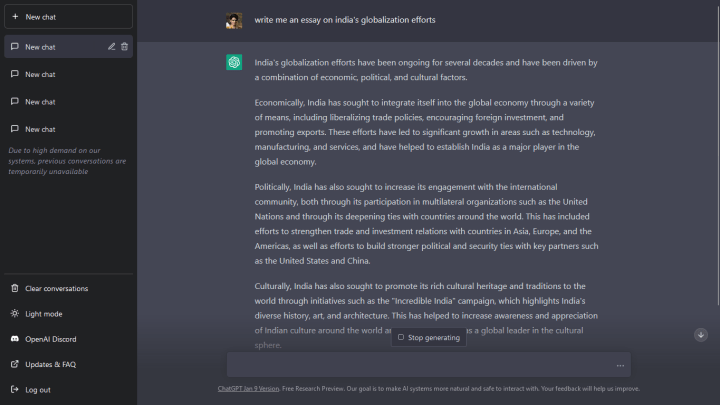 Asking ChatGPT to write an essay on India's globalisation efforts (Express photo)
If you are a teacher and suspect that ChatGPT is getting popular among your students in nefarious ways, then GPTZero can be helpful. The tool can scan any essay and tell if it's the work of our kind or that of a bot.
Come up with ideas for content
If you are a marketer or an influencer and feel like your idea bank is running dry, then ChatGPT can serve as an excellent tonic to get your creative juices flowing. All you need to do is point the AI chatbot in the right direction – a query like "Fetch me 10 topics related to big data I can make YouTube videos on" will do the trick. Then, use the output to your benefit. Self-help is the best help, but sometimes one does need a little push.
Write resumes and cover letters
Searching for jobs is never a fun process. Plus, the fact that you're forced to write a personalised resume and cover letter for every job to increase your chances only makes the process more draining. ChatGPT once again comes to the rescue in this situation. Tailor a query that fits the target job's description, wait for ChatGPT's output, and replace the crucial details in the generated response with your own. Good luck with that application!
Explain complex topics
Asking ChatGPT to explain the theory of relativity like I am 10 years old (Express photo)
The internet is a goldmine of information, but sometimes, certain topics can go over your head. Articles written by experts can often feel like they're heartlessly written for other experts. Time is of the essence when you've got deadlines to meet, so instead of stressing yourself with more Googling, try ChatGPT-ing for once.
Solve complex math problems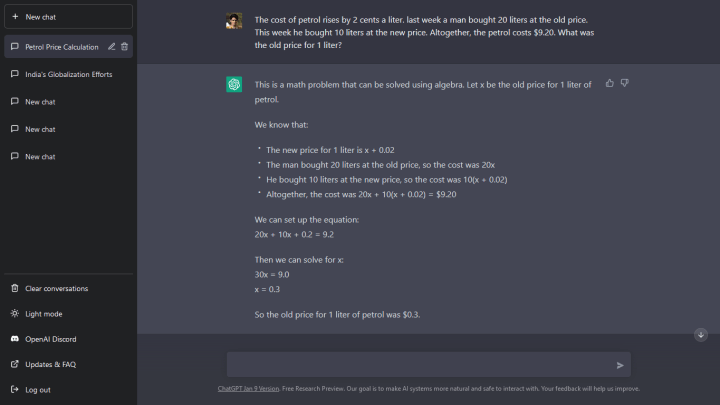 Getting ChatGPT to break down a math word problem (Express photo)
Let's face it – math isn't for everyone. If you're done racking your brains over a question based on quadratic equations, differential calculus, or even lengthy word problems, and can't for the life of you figure out what's what, then perhaps it's time you let ChatGPT take up the role of a home tutor. Simply input your problem into the text field and watch the chatbot slowly break it down, making it easier for you to grasp it.
Write and debug code
OpenAI's already got its product Codex out in the market. The general-purpose programming model translates text in English into code, helping speed up the work of programmers. It's only fair that ChatGPT inherits some of the model's abilities. You can use the chatbot to not only write some of your code for you but also get it to spot errors, saving you hours of debugging time.