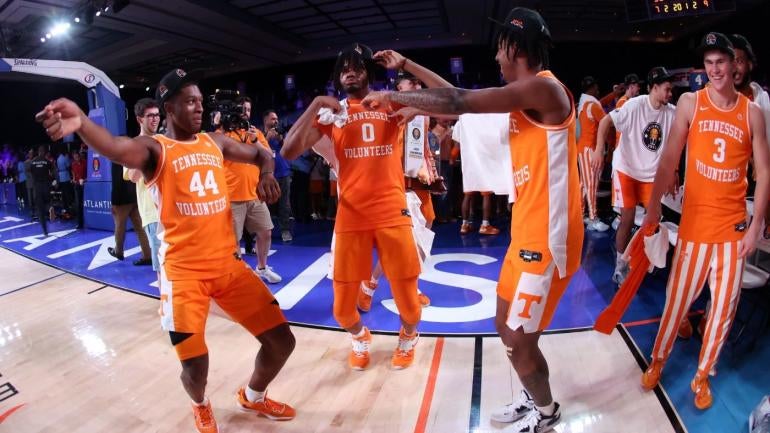 USATSI
The longest winning streak in college basketball came to a screeching halt on Friday night in the Bahamas as No. 22 Tennessee lead wire-to-wire to take down reigning national champion and fourth-ranked Kansas in the Battle 4 Atlantis Championship game. Tennessee scored the first seven points of the game and built its lead to as many as 18 points in the second half before cruising to a 64-50 win.
Kansas' winning streak dated back to March 3 of last season when it launched into the back end of regular-season play and then ran the table in both the Big 12 Tournament and NCAA Tournament with 11 straight wins to claim college basketball's crown. It had accumulated 17 straight wins, the fifth-longest win streak of the Bill Self era which started nearly two decades ago, before the loss to the Vols.
Tennessee (6-1) dominated on both ends of the court as it took down a fifth win in its last five outings against AP Top 10 teams under Rick Barnes. The Vols held Kansas (5-1) to 5-of-21 shooting from 3-point range and 32% shooting from the field while conversely they made 42% of their field goals and 44% from 3-point range. It was the first time this season an opponent of KU's shot above 40% from the field, and the first time since 2014 that KU was held to 50 or fewer points in a game.
Here are three more takeaways from the game.
Tennessee has the goods to be SEC's best
Experience, size, star power, defense, defense and . . . more defense. That's a recipe that got Tennessee past Kansas and a result that could be a harbinger for even better times ahead for the program. This team with its win over KU now has the No. 1 defense in adjusted efficiency at KenPom.com, a top-30 offense in adjusted efficiency and a havoc-wreaking style that'll be a load for any foe this season.
Don't call it an upset
Some would say No. 22 Tennessee taking down No. 3 Kansas is an "upset," but not this time. The betting line at Caesars Sportsbook actually closed with the Volunteers favored by 2 over the Jayhawks, which they covered with ease.
Tennessee is certain to be a big favorite in its next three games (vs. McNeese State, Alcorn State and Eastern Kentucky) before more challenging games vs. No. 23 Maryland on a neutral court at Barclays Center and a road game at No. 14 Arizona.
Kansas shaky since Self's return

The Vegas line swinging Tennessee's direction to close with KU actually being an underdog isn't a big surprise if you watched KU since Self returned to the bench three games ago. The Jayhawks struggled putting away NC State on Wednesday, needed OT to survive pesky Wisconsin and eventually got burnt by the Vols. KU got thumped on the boards 45-27 and committed 16 turnovers with its half-court offense routinely stagnating against UT, much like it did at times the rest of the week. KU's struggles and Self's return aren't correlated, of course, but KU in the Bahamas hasn't quite lived up to lofty expectations it helped set for itself after taking down Duke earlier in the month.