You're a business that has deep-dived into building a presence on Facebook. You've been at it for many months now, posting a variety of content, but you're at a crossroads. Is this working?
Am I winning? Are people engaging with my content? Has the effort been worth it? Am I seeing a spike in website traffic as a result of my social media efforts?
I could bet you a big wager these are just a few of the questions you're likely asking yourself if you don't yet have a good handle on your Facebook performance. It's for this reason alone that you need to get to know your analytics…
We're talking about Facebook metrics.
But there are loads! You say. I don't really understand what all these graphs mean. It's true that with Facebook metrics you really can descend into a rabbit hole of stats and it can make you feel a little disorientated, but this blog will share with you the best Facebook page and post metrics to look at to get a better understanding of your efforts and identify which types of posts are generating the most engagement for your brand.
This article forms part of a series which will discuss what are the best Facebook metrics to look at for:
Facebook Page and Post Metrics
Facebook Brand Awareness
Facebook Video Analytics
Facebook Ad Metrics
So let's start looking at the best metrics to consider when measuring the performance and success of your Facebook Page and posts.
Facebook Page Likes and Follows
Getting a page like on Facebook is the holy grail of all metrics. It means someone likes your brand that much they want to follow you and get all your good stuff in their newsfeed. Understanding your page like metrics helps you to gauge how interested the community is in your brand.
You'll find your page like metrics in Facebook Insights overview tab and audience section.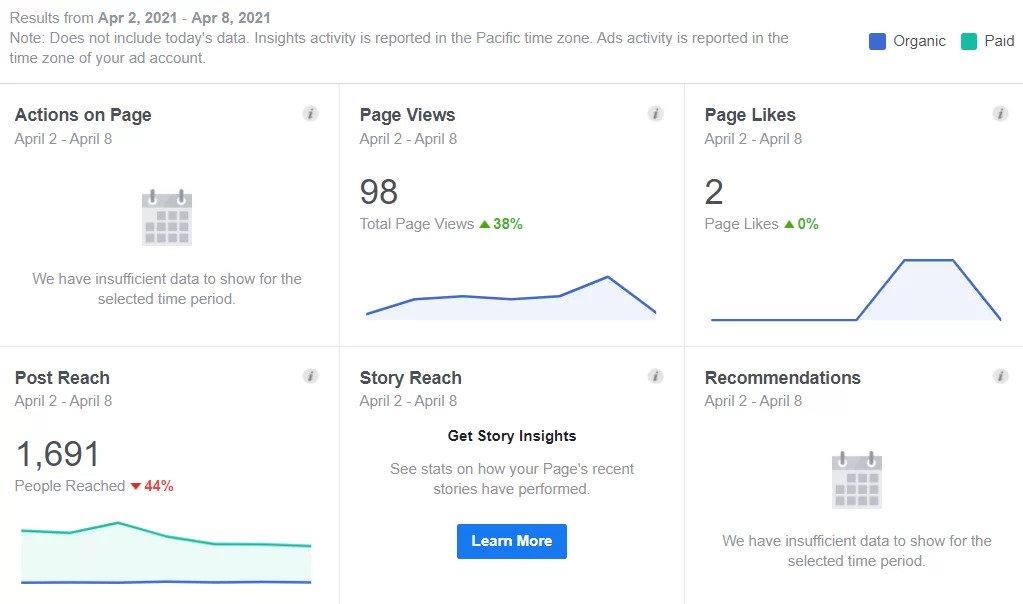 Engagement Rate
The term engagement relates to activity made by a user on either your page or your posts, which includes liking your page, liking your posts, reacting to your posts, commenting on your posts or even sharing your posts. It also refers to an activity where the user has clicked on the link within a post.
Engagement is a great way to measure how well your content is resonating with your audience. It also helps you to determine the types of posts and content that generate the most engagement. Know this and you'll likely post similar content to grow that engagement and followership even more.
With enhanced engagement, the channel will also look to feature your content in more users' newsfeeds. "Well that content is getting a lot of attention", they say, and so, they think they'll add it to more people's newsfeeds as it's clearly of interest to many.
Getting seen by more people outside your current community is a great way to increase your followership on Facebook too.
Where can I find the engagement rate?
In Facebook Insights, the metrics can be found in the Content tab. And in Creator Studio, overall engagement numbers are found in the Insights tab while post-level ones are in the Published tab.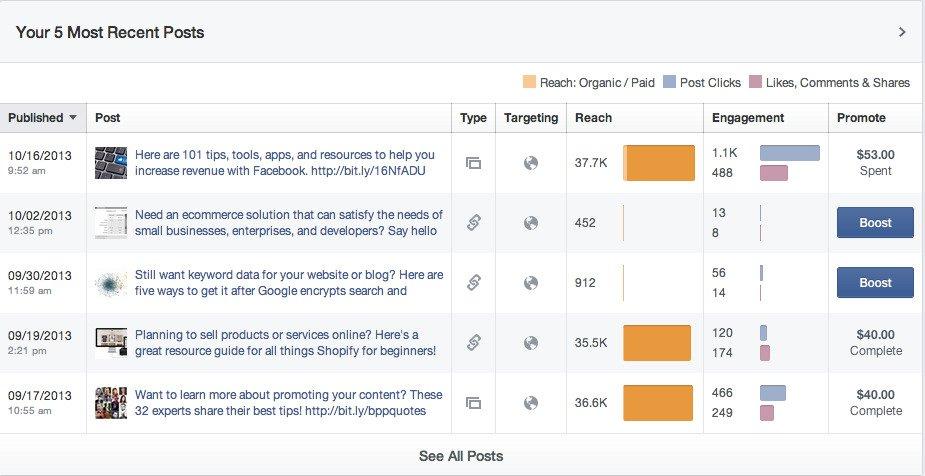 An engagement rate is calculated by taking the total number of engagements and dividing them by the total reach number and converting it into a percentage.
Impression Rate
An impression refers to how many times a post shows up in someone's timeline. If someone sees your post more than once that's called a repeat impression. The impression rate allows you to understand your posts overall visibility.
Reach Rate
Reach refers to the potential number of users who have seen your Facebook post. This number includes organic posts as well as those that are paid social i.e. Facebook advertisements or boosted posts.
It's important not to confuse this rate with impressions, which is the number of times a post is published on a news feed. If for example, a post received 10 impressions, but one reach, then that one person has viewed your post 10 times and is likely to be very engaged with its content.
Where can I find the reach rate?
The Facebook Page Report provides an average daily reach per page, which is automatically calculated. Additionally, the Post Performance Report provides both average reach and average potential reach per post as a part of Premium Analytics.
If you're working within Facebook's Creator Studio, you'll find Reach Rate on the Insights tab and Published tab.
So here we have a whistle-stop tour of the key metrics to measure the success and performance of your actual Facebook page and the content you post.