After 30 years of coaching, Tanton credits the sport for steering him away from gang life. Now he's motivated to make the game accessible to youth across Saskatchewan.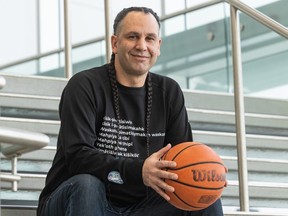 Reviews and recommendations are unbiased and products are independently selected. Postmedia may earn an affiliate commission from purchases made through links on this page.
Article content
Mike Tanton's life could have gone in two very different directions, and he would have likely been a leader either way.
Article content
There were bad influences, gang culture and a life of crime. And then there was basketball.
Article content
Tanton, 47, says he moved around a lot as a child, which meant moving through all types of friends — some positive, others not so much.
"The way that I approach things and the energy that I put into stuff, had I been going more into that world of like the gang stuff and that kind of thing, I think I would have done really well. And I say that, obviously, in the worst possible way, but I probably would have been a leader of any of those gangs," Tanton says during a break from his shift at Nutrien's Cory Potash Mine a kilometre underground.
"Fortunately enough for me, sport kind of came into my life and because I wanted to do well in sport and I was getting the positive feedback from people and the recognition that I felt I needed for my own confidence and my own development, I started to spend more time doing sports versus spending time out with these guys that were getting into trouble and doing bad things."
Article content
Basketball came into Tanton's life around Grade 8 or 9, when he helped his stepdad coach his little brother's team after he was cut from his own basketball team.
That summer, he went down to the United States to play basketball.
"That's kind of when I fell in love with the game. I started to play a lot more basketball, and it just became a part of me after that," he says.
"I slept with my basketball. I always had it with me."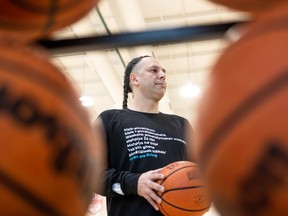 Tanton has spent around 30 years coaching Indigenous youth basketball teams. In November, he received Saskatoon B'nai Brith's annual "We Are Proud of You" Award for his volunteer work, which includes being Team Saskatchewan's chef de mission at the North American Indigenous Games (NAIG), overseeing logistics when they head to Halifax in July.
Article content
He's attended every NAIG since they began in 1990 — as a spectator, player and coach. This year, in addition to his chef de mission role, he'll also be cheering on his 17-year-old daughter's basketball team.
"This will be the first time that one of my kids gets the opportunity to play, so it's going to be a full circle moment and something that really feels special to me," Tanton says.
One of his missions is to help with the bid to bring the 2027 NAIG to Saskatoon for the first time.
Tanton's close friend and chair of One Small Step and Haven Family Connections, Gregg Bamford, nominated him for the "We Are Proud of You" award, which recognizes remarkable volunteer work in the community.
"Mike has given back more to the community than anyone I have ever met, and he has done so much to support youth. I know he doesn't like the attention, but I knew it would help him with NAIG and the support and awareness he needed from the community. It's all about making more of an impact for how he wants to help the youth," Bamford said.
Article content
Embracing culture on the court
In 2021, Tanton partnered with Aboriginal Friendship Centres of Saskatchewan to start the Living Skies Indigenous Basketball League, giving kids in both urban and rural Indigenous communities a chance to play basketball in a provincial league and learn about Indigenous culture.
He wanted kids who weren't comfortable trying out for their school teams or were getting cut to have somewhere to play.
"We're about development — not just of the sport, but of the people. You develop good people, and it makes your community stronger."
That's the goal of One Love Basketball, the non-profit Tanton co-founded with his brother that runs the Saskatoon Supernovas club team and the Living Skies league.
Article content
Rob Lovelace met Tanton on the basketball court in the early 2000s. He said Tanton was known for encouraging and welcoming younger players.
The pair have coached together and worked on many basketball-related initiatives over the years.
"(Athletes and parents) are so grateful for what he has done and the opportunity it has provided for them to take part in something that they may not have been able to. I look at the Living Skies Basketball league … and that program is open to Indigenous and non-Indigenous youth, bringing everyone together in the name of truth and reconciliation. I can't think of a better way of bringing a community together than through sport," he said.
"We wanted to first help break down the stereotypes that were out there about Indigenous people by sharing some of the culture and celebrating some of that stuff, as well we wanted to start building relationships. That's what reconciliation is — working toward building a positive relationship with all types of groups," Tanton says.
Article content
The Living Skies league has 12 junior teams and is working toward at least 10 senior teams in Saskatoon alone, he says. Kids practise in their home communities and then come together for one-day tournaments and provincial championships. Tanton says there's also a female coaching mentorship program on the horizon.
"I believe he's made a positive impact on thousands of kids' lives. He's respected by chiefs, the mayor, and community leaders. He leads by example," Bamford said.
One might expect Tanton to have had inspirational or pivotal guidance in his youth. But he says his story is more about proving people wrong.
Connecting with kids
Born in Prince Albert, Tanton spent most of his life in Saskatoon, although his family is from the Île-à-La-Crosse area.
Article content
After getting kicked off one of his high school basketball teams, apparently for doing a "flashy" behind-the-back pass, Tanton said he got fired up.
There was an assistant coach from the Saskatoon Slam — the city's pro basketball team in the mid-'90s — when he landed at Mariam Graham Collegiate.
"He would clear my absences for me to go and practise with them, and I really learned a lot playing basketball with that group. That was the first time I ever got knocked out from someone setting a screen on me," Tanton recalls.
"I learned so much in probably a four-month span that really sent my game to that kind of next level."
Tanton played a season with the University of Saskatchewan Huskies in 1999 after spending two years travelling with the New York Harlem Comedy Kings — he describes it as Canada's version of the Harlem Globe Trotters — teaching basketball skills and life lessons to young people in Indigenous communities across Canada.
Article content
That's when he realized he wanted to bring the sport he loved to more kids in diverse areas.
"I was like, 'These kids can do all of this stuff that we're doing here.' These kids didn't realize that they could be as good as me, or better."
Tanton, who is Métis, says he was connecting with kids just like him.
He spent 12 years working at the White Buffalo Youth Lodge in Saskatoon, where he became program director and started running basketball programs for Indigenous youth. At one point, he was coaching all five White Buffalo Teams in the Saskatoon Minor Basketball Association.
Lovelace said that's where Tanton shined.
"The smile on his face and the kids' faces too, when he was playing basketball with them was just wholesome. And, when Mike would tell a story, everyone in the gym would sit and listen."
Article content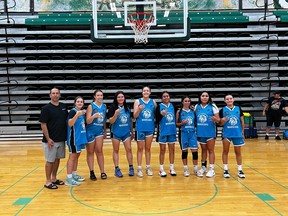 Tanton remembers a player, around 12 years old, fleeing to the White Buffalo gym after escaping a home invasion. Tanton says the boy clung to him for the rest of the night.
"To me, it really hammered home the fact that when kids are in a traumatic situation like that, a lot of times they want to try and go to where they feel safe. It really struck a chord with me, knowing that what I was doing was obviously beneficial, and impactful in a way that I didn't quite recognize at that time."
Tanton took a different approach when coaching kids who had little support, telling them that in order to be successful, they had to achieve more than the "bare minimum."
"The resilience that a lot of these kids showed was pushed so far and stretched so thin that when there was a loss on the court, they would find it even harder. They would be really sad when we lost games, to the point of crying, but I knew it was less about the game and just more of this is a safe space for them to be able to let their feelings out and not be judged," he says.
Article content
Sometimes, Tanton shares his struggles with youth who can relate — how he left home in Grade 6 due to family dynamics and was able to do well in life despite not having the same support and opportunities as other kids.
"I didn't want to be a statistic. I didn't want to just be another Indigenous kid that joined a gang and was a waste of talent and a waste of time, and I wanted to prove my worth — that was something I wanted to do not just to other people, but even to my own family."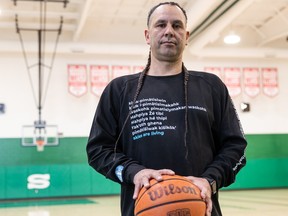 He says he will continue building the Living Skies league and connecting people in the community to their passions, saying "People will excel and go above and beyond when it's something that they're passionate about."
"He's always thinking big picture, and if there's an opportunity to help youth and see people have a good time with one another, Mike will be there. I think that drive to see an event come together and the impact it has on the community keeps Mike fuelled to keep adding more projects to his plate," Lovelace said.
Article content
However, Tanton says his biggest plan after he returns from NAIG is to slow down and enjoy more time with his family.
"I only do some of these things because my kids can be a part of it. I have a 10-year-old, I have a 13-year-old now, and I want to make sure that even though I'm doing these things in the community, that I'm not missing out on being a dad."
Looking back, Tanton admits he made some poor decisions. But overall, he says he wouldn't change a thing.
"(It) all made me the person that I am. The lessons learned from messing up sometimes are a lot more beneficial than when you do something and succeed."