Chris Chatmon has spent most of his life working in, and learning about, America's education system. He has years of experience as a teacher, counselor, and administrator. He has a Master's degree in Education from an Ivy League school.
Still, everything Chatmon needed to know about how poorly schools treat Black and brown boys he learned firsthand in elementary school.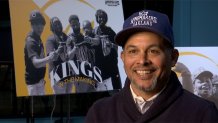 "The unfortunate experience I had in public school is one nested in trauma," Chatmon said.
Chatmon said his spirited, talkative nature as a child was seen by his teachers as something to be fixed, not nurtured. He said he was regularly paddled and, in third grade, had his desk removed from the classroom by a teacher and placed in a coat closet.
"They really tried to break my spirit and get me to conform," Chatmon said.
It took years for Chatmon to understand that it wasn't his fault and that he wasn't alone. "All of us (Black and brown students) had really bad experiences. That's when I was like, 'You know what, I got to do something different.,'" said Chatmon.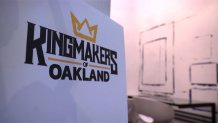 It was that realization that set Chatmon off in his quest to reform how schools, teachers, and administrators work with Black students, particularly boys. It is what led him to all those years working within and studying the system.
But Chatmon now has taken all that he has learned and struck out on his own, creating Kingmakers of Oakland.
Kingmakers is a nonprofit organization Chatmon founded that offers young Black boys in Oakland access to a wide range of opportunities they normally wouldn't be exposed to. The goal is to not only provide young men with practical skills that will help them succeed in school, work, and life but to get them to believe in their own potential. 
"They're walking around with crowns in their pocket and unfortunately the systems that we go through they would never know that they are kings and what we are trying to do is help them understand just who and whose you are," said Chatmon.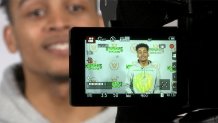 Those crowns are discovered through programs like Kingmaker's Media Academy, where youth are taught all aspects of film, video, music, and animation. In their new, 8,000-square-foot headquarters, young men will design and produce apparel.
These programs are all on top of Kingmaker's academic support of its members.
Miles Pare is a 17-year-old going to Skyline High School. Pare said Kingmakers opened his eyes to the opportunities available to him, particularly when it came to college. He now has his sights set much higher: he hopes to attend an HBCU or Stanford after graduation.
"Those are pinch-me moments where you realize this king, he found his crown," said Chatmon.