As we look back on 2022, here are some of the top stories that were making news in our community.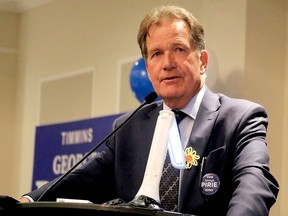 Article content
As we look back on 2022, here are some of the top stories that were making news in our community.
Article content
• PIRIE BECOMES CABINET MINISTER: In early May, former mining executive George Pirie, who was elected as mayor in 2018, stepped away from his municipal role to put his name forward to represent the Timmins riding at Queen's Park. Representing the Ontario Progressive Conservatives, Pirie's efforts were successful, as he emerged victorious and unseated 32-year veteran Gilles Bisson of the NDP. On June 24 at a ceremony in Toronto, Pirie was named the province's Minister of Mines (with an additional mandate to develop the Ring Of Fire) by re-elected Premier Doug Ford.
• BOILEAU BECOMES MAYOR: After Pirie had vacated the seat, mayoral duties were transferred to Ward 5 Coun. Kristin Murray, who was the deputy mayor at the time. She was officially appointed mayor in early August and served in the role until the municipal elections took place. Three candidates ran for mayor — local businessman Richard Lafleur, as well as two members of council in Michelle Boileau and Joe Campbell. Oct. 24 was election day, and Boileau secured 61.5 percent of the vote, winning the race handily. She was officially sworn in as mayor at a ceremony on Nov. 15.
Article content
• NEW POLICE CHIEF: At a change of command ceremony on Feb. 24, former Ontario Provincial Police detachment commander Daniel Foy became the Chief of the Timmins Police Service. Outgoing chief John Gauthier, who had been in the role since 2011, retired after a 30 year career in policing.
• NEW FIRE CHIEF: The year also saw a new chief of Timmins Fire Department, as former deputy chief Berny Stansa took the reins on Nov. 1. Outgoing chief Tom Laughren, who is also a former mayor and city councillor, retired after moving into the role in April of 2019. With Stansa's promotion, Scott Atkinson moved into the deputy fire chief role.
• BRIDGE CLOSURE ISSUES: The closure of the Porcupine River Bridge near Hoyle in the city's far east end was a major infrastructure development that occurred in late 2021. However, frustrations from area residents continued throughout 2022. The closure meant Carrigan Road became the only driveable link to Highway 101 and the rest of the city, and added more than 10 minutes to a commute. In early July, a public town hall meeting was held where concerns were heard by city officials including risks in the case of an emergency situation and increased wear-and-tear on the previously low traffic Carrigan Road. In September, city council directed staff to look at a full bridge reconstruction, which is expected to cost well over $4 million.
Article content
• RETAIL LOSSES: It proved to be a very challenging year for the local retail sector. Discount clothing chain Value Village confirmed in May it would close its location on Waterloo Road in the fall. Big box office supply chain Staples closed its west end Timmins doors in late July. Locally owned craft brewer Compass Brewing also ceased its operations at the end of July after struggling to find investors. Among the other businesses closing in 2022 was Pop Shoes, an Algonquin Boulevard West footwear retailer.
• RETURN OF BIG PUBLIC EVENTS: The year saw the return of many important and beloved large events in the city, after pandemic related cancellations. The Big Event, also known as the Canadian Mining Expo, returned in early June to the McIntyre Community Complex. It featured well over 400 exhibitors and thousands of visitors. TimminsCon, or the Northern Ontario Expo, also returned in full force in early April. The Timmins Multicultural Festival in May, the Home and Cottage Show in late April, and the Timmins Chamber's Nova Awards on May 12 all saw highly successful returns as well.
Article content
• HOLLINGER PIT LOOKOUT: After many years of anticipation, Newmont officially opened its lookout point atop a massive rock berm off Brunette Road in late June. It offers stunning multi-level views into the Hollinger Pit Project, as well as the surrounding cityscape. The attraction, which features accessible ramping, park benches, and picnic tables, was opened well into the fall, and will open again in the spring.
• ROCK ON THE RIVER: The Timmins Festivals and Events Committee hosted another edition of its Rock On The River on July 22 and 23 at Hollinger Park. The 2022 lineup featured American hard rockers Chevelle, and Canadian acts such as Our Lady Peace, The Tea Party, Monster Truck, and Econoline Crush. The committee was able to announce its next lineup, and gets tickets on sale, earlier than they ever have before, in December. Papa Roach and Dallas Smith will headline 2023's event, which will feature an all-country night for the first time.
Article content
• OPIOID CRISIS: Aiming to help address the city's alarming drug overdose death rate, Safe Health Site Timmins, a temporary supervised consumption facility recognized as an "Urgent Public Health Needs Site" by the federal government, opened its doors on Cedar Street on July 4. Affiliated with and run primarily by Timmins and District Hospital staff, it provides medical supervision, addictions and counselling outreach, as well as clean equipment for its clients. According to data released by the hospital, there were more than 2,300 visits to the site in October alone. At a city budget meeting in mid-December, a delegation of addictions doctors and counsellors requested a half million dollars to fund the site for up to a year and bring it up to a permanent status, which the province would then cover annual operation costs.