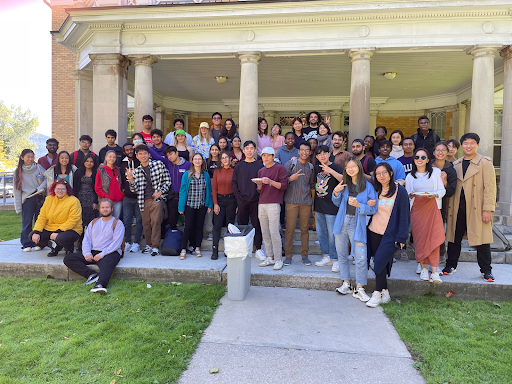 After many years of student activism, the College launched the Theme/Affinity/Program/Special Interest (TAPSI) housing program for the 2021-2022 academic year. Its inaugural year had only one proposal — the Sustainable Living Lab. The 2022-2023 academic year, however, saw four TAPSI proposals approved by the Residential Life Team (RLT) at the Office of Campus Life. This year, the four TAPSI communities each occupy part or all of an upperclass dorm.
After a semester, the Record spoke to students about their experiences living in the Williams Interfaith Dialogue House, the International House, the Sustainable Living Community (SLC), and the Eban House, which is for Black affinity housing.
Karla Cabrera '25, a resident of the Eban House, was initially drawn to TAPSI for its capacity to serve as a gathering place for Black students while Rice House, a part of the Davis Center's multi-building complex dedicated to multicultural student engagement, was under construction during the 2022-2023 academic year. "[Rice House was] this center for the Black community where you could go to cook and study and hang out, and so this would take [its] place," she said.
Over the last semester, Cabrera found that shared identity has brought her closer to the people with whom she lives. "The community is so tight-knit that I know everybody on a different level than I knew everybody in my entry," she said. "The African diaspora has a lot of cultural overlap, so there are certain things that are more culturally similar among the whole house, and that provides a lot more comfort."
Abraham Paik '25, a Community Coordinator (CC) for the International House, echoed this sentiment. "I feel a greater attachment to the people in this house than I did with my entry or Sage Hall last year," he said. "Having [an] application for the TAPSI house [selects for] the people who want to live there and are supporting the mission."
Each TAPSI community has two CCs who execute similar duties to House Coordinators in standard upperclass dorms. One of their primary responsibilities is to organize at least three programs for their TAPSI houses.
For Rebekah Lindsay '25, a CC for the SLC, organizing these gatherings has been one of the most fulfilling aspects of the TAPSI program. "I've really appreciated the opportunity to plan events and focus on different aspects of dorm living — like composting — that are often neglected on campus," she said.
According to Gus Demerath '25, the other CC for the SLC, he and Lindsay typically host weekly dinners for members of their TAPSI community, both to cook together and to discuss environmental issues. One evening, they invited Zilkha Center Sustainability Coordinator Christine Seibert to show students how to prepare a vegan meal and Zilkha Center Director Tanja Srebotnjak to discuss the current state of environmental politics.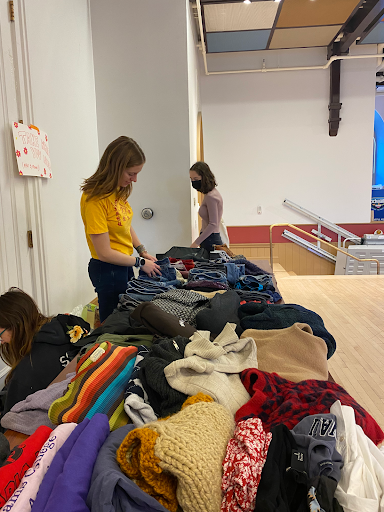 Utsav Bahl '25, a resident of the Williams Interfaith Dialogue House, also described the TAPSI events as a highlight of the community. "It's been really cool to have … people sharing different parts of their culture," he said. Last semester, he attended a Taoist tea ceremony, a meditation led by Chair and Associate Professor of English Bernie Rhie, and a talk with Interfaith Fellow and Interim Muslim Program Coordinator Anne Myers.
Bahl, who describes himself as "not particularly religious," said his decision to live in the Williams Interfaith Dialogue House was partially motivated by the house's location and because he wanted to be in a dorm with his three closest friends. 
"I think the housing that we would get factored into most people's decisions," Bahl said. However, he explained that this has not impacted the community's commitment to the theme. "Whatever reason people came to interfaith housing, people have been participating." 
"We hope it's not the sole reason you're here," Demerath said of students applying to live in TAPSI housing for the location or quality of the dorms. "I think that there are a few people that were brought in by their friends, … but the biggest success stories are when those people have come and are really engaged and have talked to other people about how much they like it." 
Jiwoo Han '25, another CC for the International House, said that she has felt more secure living in a TAPSI community than in her previous housing at the College. "There's a lot less to worry about in terms of your living arrangement," she said. "Even if we have different sleeping schedules, we have the same mindset about what it means to be international."
For Cabrera, the Eban House has also become a space where she feels she can live more comfortably. "Williams can be a really tough place to exist as a Black student, and [with TAPSI housing] you can come home and know that that's not something you are going to think about in your dorm," she said.
According to the College's website, applications for TAPSI houses for the 2022-2023 school year were due on Jan. 8, and proposal decisions will be made on Feb. 1.
As the TAPSI program grows older, Paik said that he hopes to see it keep growing. "TAPSI housing, in a perfect world, will continue for a long time at Williams," he said. "I want it to be a mainstay of the Williams community, and having lived in it and been a leader in it, I think it's something that's really positive that Williams has been doing."