Over 160 volunteers and guests attended the Volunteer Centre Dorset's Volunteer Celebration Evening – considered the 'volunteering equivalent of the Oscars'. The Dorford Centre was beautifully-decorated and packed for this much-loved and anticipated event, the first one to be held since 2019.
For the tenth year, in the true spirit of volunteering, Allen Knott donated his time presiding over the event, helping to celebrate the amazing community contributions and personal achievements of some of Dorset's volunteers.
Awards were given to nominees across five categories – Community Action Group, Young Volunteers, Employee Volunteering, Teams/Groups and Volunteer of the Year. Because of the scale of some of the teams and groups volunteering, they chose representatives to attend, with volunteers from such a wide diverse range of ages, skills, backgrounds and interests.
In a new category for this year, some of the award winners were nominated for their dedication and contribution throughout the pandemic, and beyond, as community volunteers, or helping at vaccination centres. It was acknowledged that this volunteering played a huge role in helping people during the pandemic and supported the national effort to 'return to normal'.
The event shone a light on different types of volunteering, including youth volunteering. Many of Dorset's young people are about to undertake their Duke of Edinburgh Award, so will be looking for a variety of volunteering opportunities to learn new skills and help their community. There were even young volunteers helping on the evening, including Mia from The Thomas Hardye School who played the piano during the interval.
Marie Waterman, CEO of Volunteer Centre Dorset commented "We know that we are celebrating only a very small proportion of the great volunteering work that goes on throughout Dorset – we just can't get a venue large enough to invite the thousands of people who give their time to charities, causes and organisations that are special to them. We hope that organisations that benefit from volunteers' work are able to recognise, celebrate and thank them in their own way. It is always an emotional event, with people who give selflessly, being thanked and recognised for the difference they make."
Weymouth Street Pastors commented online "Thank you, Thank you, Thank you to everyone who nominated us… We have had a fantastic night at the Dorset Volunteer Award Ceremony. Everyone who was nominated was presented with a certificate and recognised for the volunteer work they do. This was such a privilege for us and we are so thankful and grateful for all the nominations we received."
And there were even more winners on the night, as a prize draw for each category rewarded a volunteer with a hotel night away, donated from Room to Reward.
Nationally, it is believed that 1 in 4 people volunteer each year. In Dorset, there are literally hundreds of volunteering opportunities available right now, in all different fields of work. There is something to suit everyone's skills, interests and availability. You don't need to make a long-term commitment, because some volunteering is for one-off events or ad-hoc tasks. At the moment with the cost-of-living crisis, people might be worried about incurring further costs by volunteering – but it is worth knowing that many organisations actually reimburse expenses, especially for travel – so you won't be out of pocket.
For more information about volunteering visit www.volunteeringdorset.org.uk
---
Rob Mott from KeeP 106 attended the event and spoke to some of those participating: Reporting from the Dorset Volunteer Awards 2022
---
Photos by Lynita Harris (click an image to enlarge)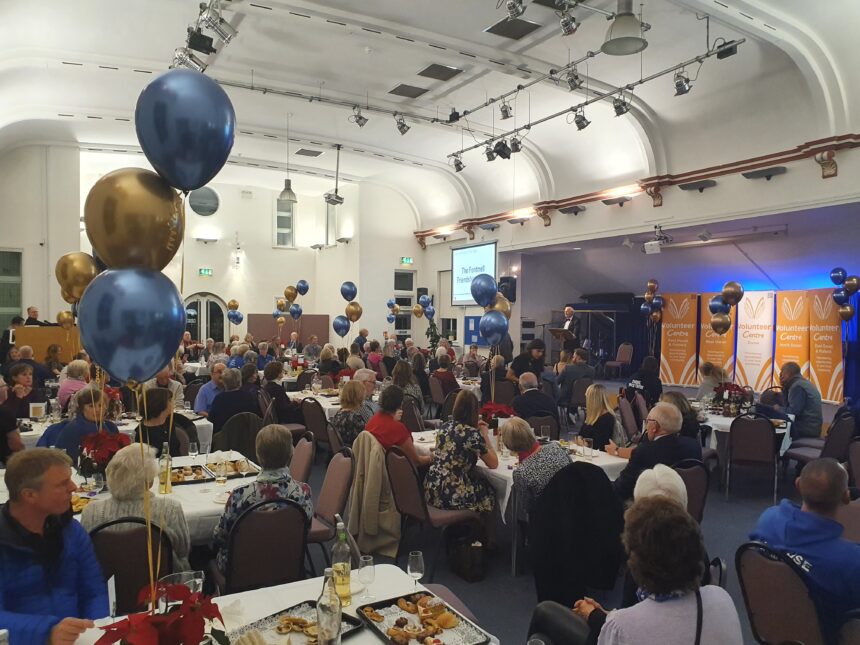 ---