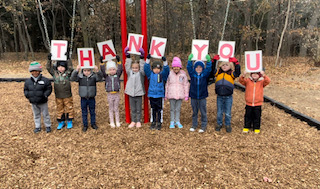 Christmas came early at Our Lady of the Lake Catholic School's elementary campus, 3165 Washington Avenue, as the community rallied to provide a new outdoor play area including playground equipment, swings, borders and mulch.
"We are truly blessed to have such a caring school community that supports our amazing Early Learning Program," shares Sherri Kirschner elementary principal. "Our teachers do a wonderful job of educating the whole child. The new playground allows our kids to engage in more outdoor activities throughout the year."
Made possible by the generosity of areas businesses, donors and volunteers, the new space provides preschoolers with a safe, vibrant outdoor play space.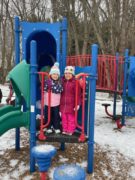 The improvements began in August, and Boy Scouts Troop #624 helped clear weeds in preparation. Pat Glotzbach contributed a new storage shed to house the school's ride-on toys and tricycles. Adent's Supply Company donated and delivered crushed concrete for the base, then Glotzbach assembled the structure with the help of volunteers Andrew Glotzbach, Jess Mutzschler and Craig Lear.
Thanksgiving weekend, B & Z Company gave of their time and talent to excavate and install the new equipment generously donated by Deacon Charles and Sue Thelen. The additions include a double-T swing, borders and a new accessibility ramp which makes it possible for little Lakers with special mobility needs to join in the fun.
B & Z returned with piles of cushy mulch to complete the project.
Early Learning Program Coordinator Tracy Glotzbach says her students are already filling the space with laughter, and she's looking forward to future improvements. "Our next priority is a fence to enclose the play area as an added layer of safety and security," she says, adding "After that, we'd love to pave a track for our ride-on toys and tricycles."
Our Lady of the Lake's Early Learning Program is for three and four-year-olds, and features an engaging, child-centered curriculum. Daily activities provide opportunities for growth in language and literacy, math, science, theology and social studies, as well as physical and social-emotional growth. Families interested in enrolling their three or four-year-old in Our Lady of the Lake's Early Learning Program can call 269.429.0227 for more information or to schedule a tour.
Our Lady of the Lake Catholic School is a private pre-kindergarten through 12th grade school accredited by the Michigan Non-Public Schools Accreditation Association. Our Lady of the Lake provides an exceptional academic experience by focusing on Education, Faith and Citizenship.
Learn more at OurLadyCatholicSchool.com.
Families interested in a quality, faith-based education can call to schedule a tour: 269.429.0227 for pre-school through 5th grade; 269.983.2511 for 6th through12th grade.
             Photo credit:  Our Lady of the Lake Catholic School