Article content
Roughly 600 volunteers will be out on the street starting Thursday for the annual Goodfellows newspaper drive.
Article content
It is the 107th year of the annual event which brings in roughly 45 per cent of funds utilized each year by the organization, said Jennifer Wells, the organization's president.
Article content
"The drive is super important for us," she said. "It helps support all of our programs. People only think we help at Christmas, but we have four programs that go year around."
This year, Goodfellows has established a goal of $375,000 through volunteers on the street receiving donations by selling newspapers provided each year by the Windsor Star. The help agency last year raised $366,000 through the drive.
Aside from providing Christmas food boxes, Goodfellows operates a food bank with boxes handed out to those in need each Tuesday and Friday, a school breakfast program that feeds up to 1,000 children at 29 different schools, a children's shoe and boot program, plus a lunch bag program where anyone can receive a lunch at the agency's downtown location each Tuesday and Friday.
Article content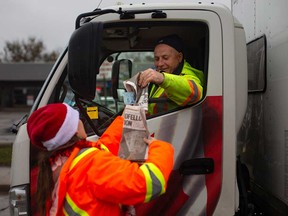 The increasing cost of food has not only has created greater demand at Goodfellows, but also increased cost for the agency to provide food to others, Wells said.
"We have seen an increase (in demand)," Wells said. "We served 1,000 new families this year, while our food costs have also gone up 33 per cent — just like for everyone else. Costs for our lunch bag program have gone up 50 per cent. We are serving 200 lunches per week under the program which we didn't even have two years ago."
That's why Goodfellows values the support provided each year by people locally donating to the newspaper drive, she said.
"The economy is tough right now," Wells said. "Costs for everything have have gone up, so people at the poverty line who may be working are still finding it tougher to make ends meet.
"Every donation — whether it's the change in your cup holder or a $20 bill — really helps us. People in Windsor are always very generous, so we are very grateful for everyone's support. It's gratifying to be part of a community who cares."
Volunteers will be stationed across Windsor, Tecumseh and LaSalle at various intersections asking for donations of any size in exchange for the newspapers. They will be out in the streets all day Thursday, Friday and Saturday.